Pang Ung (Mae Hong Son) – The Most Romantic Destination in Thailand
Pang Ung which officially called The Royal Forest Project at Pang Tong 2 at Mae Hong Son of Northern Thailand is truly one of the most beautiful attractions in Thailand. It's a small alpine lake and hill tribe village hidden away in the mountains very close to Myanmar border.
eak_holder] --> data-ad-layout="in-article" data-ad-format="fluid" data-ad-client="ca-pub-8670702477088527" data-ad-slot="9001442227">
Pang Ung which has been described as the most romantic destination in Thailand, is an area of untouched beauty hidden away in the mountains of Mae Hon Son province . In the northern Thai dialect the word 'Pang' means a shelter, and the word 'Ung' means wetland.
It has a green pine forest surrounding a large irrigation reservoir which offers superb views all year round. The atmosphere is charmingly quiet, especially during the winter mornings in the months of December to January. 
PLAY VIDEO: THE MOST ROMANTIC DESTINATION IN THAILAND
Pang Ung – The Royal Initiative Project
Pang Ung is a Royal Initiative Project by HM Queen Sirikit for highland development. Previously an opium planting area for the surrounding hill tribes communities, the place was transformed into agricultural land growing vegetables and herbs.
Pang Ung has the most magical sunrise views. The mist covering the lake like a woolen blanket, slowly wafted upwards curling gently into the morning air.
The irrigation reservoir is surrounded by green pine forest with a camping area.
Along the bank of the reservoir stand coniferous forests formed by Khasi pine and Sumatran pine which are fully covered by enormous evergreen forest and mountains. 
Pang Ung is located around 40 kilometres from Mae Hong Son city, which takes about 2 hours of driving. Most people visited this place as a part of their day tour to a few attractions in Chiang Mai and Mae Hong Son. 
One of the best things to do in Pang Ung is to hang out and enjoy the lake, the trees and the clean air. The lake view, pine leaves, beautiful mountain scenes, and hazy fog in the morning are a perfect combination for those who enjoy nature and tranquillity.
There are also plenty of hiking options in the area, but there are no designated paths so one would need to hire a local guide to go hiking. 
Pang Ung doesn't see a lot of tourists due to its remote location in the mountain area. However, if you don't like the crowd, you should avoid visiting the place on Thai's holidays, like the New Year Day, Songkran, the Mother's Day etc. 
The lake view, pine leaves, and the beautiful mountain scenes are a perfect combination for people who love natural destination. 
The lake is also home to several white and black swans. If you're lucky you'll find them loitering around the side of the lake.
Around the lake there are paths which are perfect for jogging or just walking. 
HOW TO GO

TO PANG UNG

Most people come to Pang Ung on a small day-tour group (by minivan) from Mae Hong Son or Chiang Mai. The nearest airport is the Mae Hong Son Airport, with daily flights to/from Bangkok and Chiang Mai. 

If you want to come here by yourself, you may catch the yellow songthaew (pick-up truck) from Sai Yut Market at Mae Hong Son town. The car leaves at 9.00am and 2.00pm daily. And the way out from Pang Ung back to Mae Hong Son, 6.00am and 11.00am.
For the DIY road trip enthusiast, or if you are taking the Mae Hong Son Loop road trip, you may make a detour to Pang Ung when you are going between Mae Hong Son and Pai/Chiang Mai. Some visitors combine their visit to Ban Rak Thai on the same day because the two places are separated just 6km from each other.   
The road leading to Pang Ung is windy and narrow with sharp curves, and sometimes fog would become another obstacle. It is highly recommended to travel in the afternoon. If you are driving your own car (or motorbike), you must arrive at the park before 6.00pm because the park's entrance will be closed at this time. 
WHERE TO STAY

IN PANG UNG

To stay overnight here you can rent a tent to camp at the lakeside. The price is 300 Baht for a small tent, and 500 Baht for the bigger one, both inclusive of two bed sets (quilt and mattresses). If you bring your own tent you just have to pay 100 Baht cleaning fee. Toilet and shower are available at the campsite but without hot water. 

Nearby the campsite there are a few shops and restaurants where you can buy food and supplies. They close at 9.00pm. You may rent a barbeque set with charcoal (100 Baht) and set it up next to your tent. Raw food can be purchased from the shops too. 

In case you don't want to stay in a tent, there are plenty of homestays run by the locals, with the room price starts around 500 Baht. One of the homestays i.e Lung Soi Nguen Homestay can be booked online. (check availability here)
Pang Ung's campsite is totally different from the other national park as it's located right beside the lake. Great opportunity to experience nature up close.
Who need a five stars hotel when you can lie down at the lakeside's green pasture spending the night under the sky with a million stars sparkling on top of you.
And then wake up in the morning with a breath-taking views like this. 
MISTY MORNING

IN PANG UNG

The best time of the day for photography is in the early morning when you can expect to see some spectacular sunrises. Pang Ung's sunrise is the most magical. The thick solemn mist covering the lake like a woolen blanket, slowly wafted upwards curling gently into the morning air.

To immerse yourself in the stunning atmosphere, you should definitely take a ride with the bamboo raft (150 Baht), floating through the mist and row around the lake.
The beautiful lake offers superb views all year round. But if you are visiting Pang Ung during the winter months (December ~ February) the temperature could get below 10°C, and even drop to 0°C at night, creating a thin film of ice covering the flowers and plants. Remember to stash a jacket in your backpack, or rent an extra blanket if you're camping at the lakeside.
Note that the park is geared entirely towards local tourist where almost all instructions and signs are in the Thai language. People there barely speak English but they are used to seeing foreign visitors. Basic communication shouldn't be a problem. 
Pang Ung
Opening Hours: 6.00am-8.00pm (park entrance closed at 6.00pm).
Location: Ruam Thai Village, Mae Hong Son Province.
Admission: 100 Baht.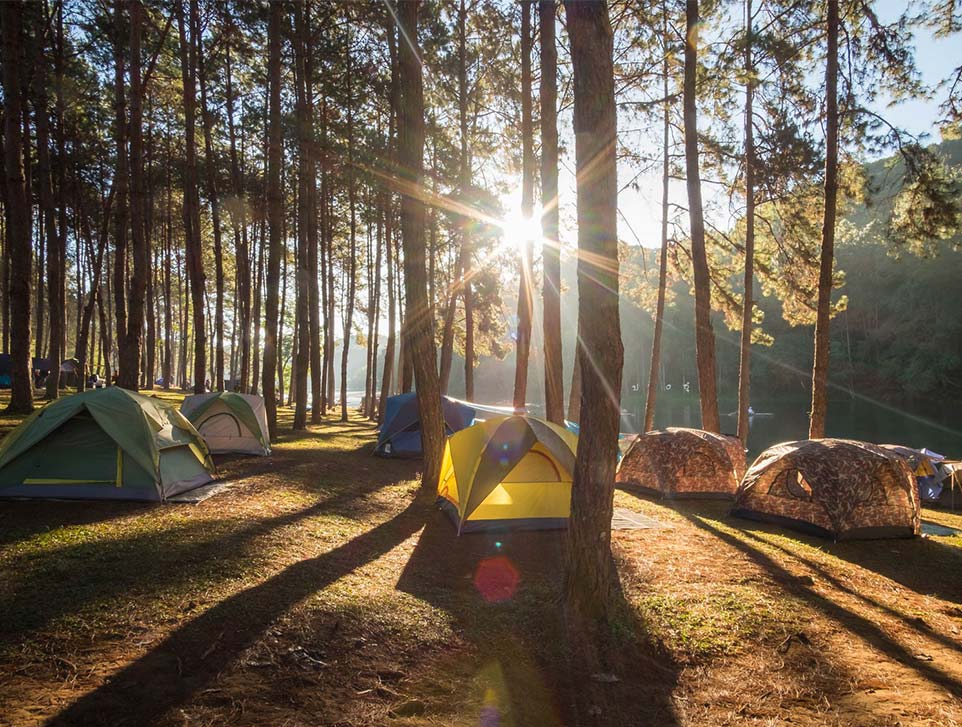 The campsite is huge. No need to reserve in advance unless you are coming during the tourist peak period i.e December~January.
Pang Ung is tranquil and silent, an ideal place to relax and do nothing. If you like nature, trees, clean air …. this is the destination for you. 
WHEN IN CHIANG MAI, YOU MAY ALSO LIKE:
BAN RAK THAI (MAE AW) The Most Beautiful Village in Thailand
THAILAND TALLEST MOUNTAIN Doi Inthanon National Park
MARKET MARKET GUIDE 17 Best Local Markets in Chiang Mai To Visit